Take your yoga practice to the next level
200-Hour Amara Teacher Training
Embark on a life-changing journey to deepen your practice and learn how to teach.
with Luna Pierson, Linda Lehovec and Don Briskin
Elevate your love of yoga to the next level
Our comprehensive cross-disciplinary program will introduce you to the transformational, multi-layered path of yoga. It will help you progress your personal practice, increase your confidence and encourage you to find your own unique voice. Yoga is evolving from an ancient practice to contemporary practice and our teacher training program celebrates and includes best practices from all major lineages of yoga.
Lead Trainers:
Luna Pierson began her yoga journey in 2009 here at Amara by helping her mother Kathryn Fitzgerald open the studio. She now lives and teaches yoga full time in Los Angeles, California and specializes in teaching the art of creative, intelligent, dynamic and safe sequencing.
Linda Lehovec has been practicing yoga since 2000. A dancer and choreographer, Linda has been teaching yoga since 2004 at the University of Illinois where she is currently on faculty in the Department of Dance. Linda will be teaching principles of anatomy, how to observe bodies and hands-on adjustments.
Don Briskin began practicing yoga in his early teenage years in Southern California and has been teaching yoga in Champaign/Urbana since 2004. He will share his vast philosophical and historical knowledge of yoga throughout the training and teach advanced study of asana (proper alignment, benefits and potential risks).
Our 200-hour teacher training is offered as both a weekend program (September through May) and an intensive program (June). Amara is a registered yoga school with Yoga Alliance, so that graduates of our 200-hour YTT programs may register for RYT-200 status, and current RYTs may use our continuing education programs for CEs with Yoga Alliance. For inquiries about any of our professional training programs.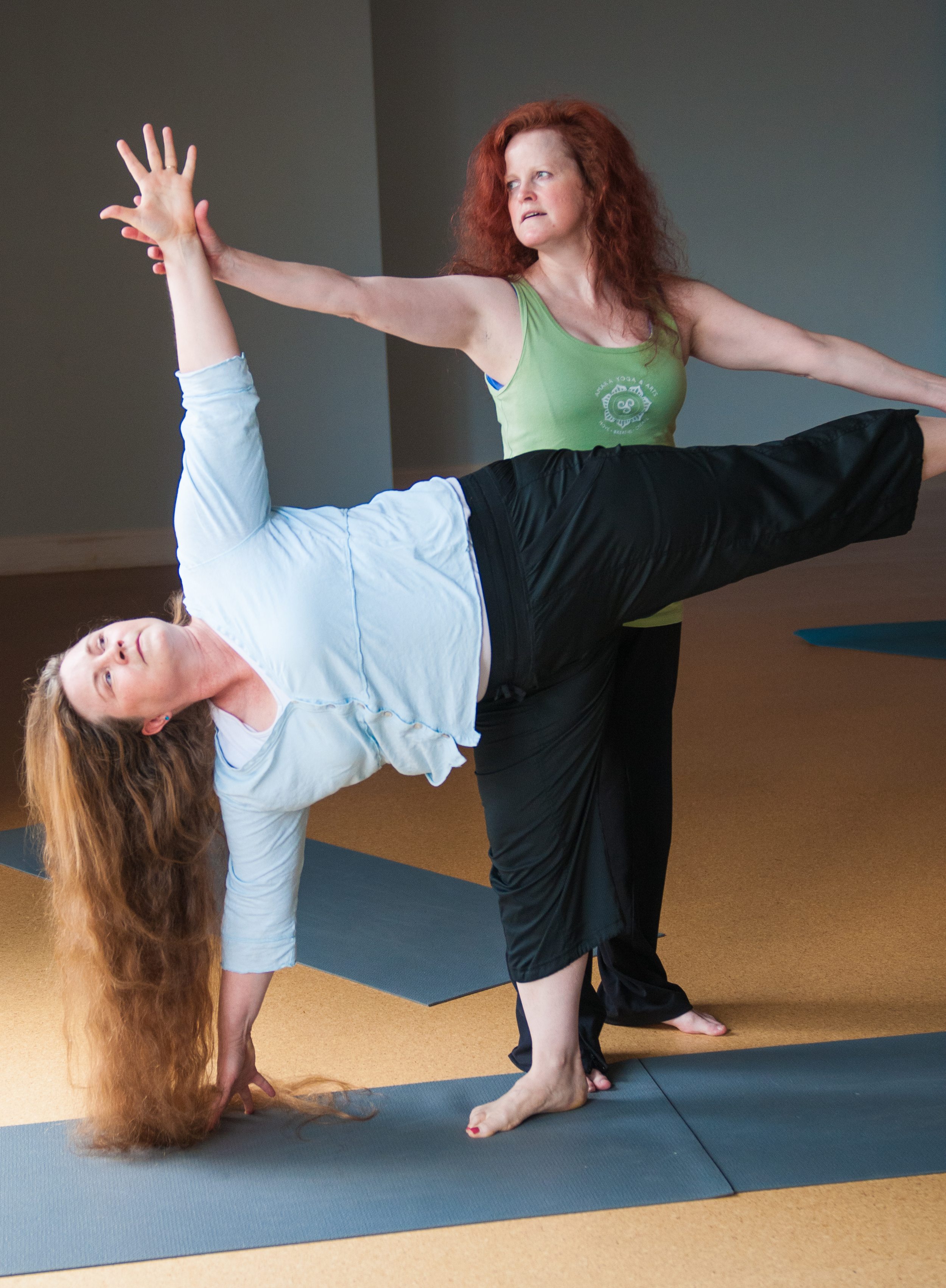 Questions? Email info@amarayoga.com
Sample Reading List
The Path of the Yoga Sutras. A Practical Guide to the Core of Yoga (2011) by Nicolai Bachman.
The Bhagavad Gita" Introduced and Translated by Eknath Eswaren (2007).
The Key Muscles in Yoga by Ray Long
Yoga Mind, Body & Spirit: A Return to Wholeness By Donna Farhi
Basic curriculum
Asana
Art of Creative Sequencing
Hands on Adjusting
Sanskrit names of postures
Pranayama
Meditation
Anatomy and Physiology
How to observe bodies
Use of props to modify or improve a posture
Origins and History of Yoga
Yogic Philosophy and Lifestyle
Finding your voice as a Yoga Teacher
The Business of Yoga
About the Training
Typical day: Each day will begin with a yoga practice which includes the postures that will be focused on later in the day. After the practice the day will consist of a mixture practice teaching and learning postures (alignment, benefits, contraindications, and adjustments), group assignments, discussion and lecture followed by a final meditation.
Writing assignments: Writing assignments will be given periodically and expected to be well thought-out and thorough. Length will vary.
Other assignments: Teachers will assign various out of class reading assignments. They will also assign various activities such as watching a video online or attending class.
Exams: There will be one midterm take home exam for yoga postures, as well as for yoga philosophy and history. There will be two midterm take home exams for anatomy and physiology. Your completion of the program is contingent upon passing a comprehensive in-training final exam.
Observation and attending classes: Each student will be required to attend 8 classes, observe 5 classes, and assist 3 classes at Amara during the training. The cost of these is included in the student's tuition.
Practice Teaching: Each student will be required to teach both at home and in the studio (to the other teachers in training) several times during the training. The practice teaching part of training will culminate in a community class taught at Amara. This class is open to the public and will be observed by a faculty member.
What People Are Saying About Amara's Yoga Teacher Training Program
"Teacher Training at Amara has really stretched my brain muscles as much as my body. I walk away from training sessions with the realization that there is a deep reservoir of yoga knowledge that I need to explore further. Don, Luna, Linda, Grace and Laura have taught us how to teach yoga AND about the depth of yoga practice. "
Continuing Education at Amara
We offer workshops and trainings to help teachers continue to develop their practice and teaching skills.
Click HERE for a current schedule.